This tutorial contain information about the basics of searching most of the CUAA databases. Need help with a specific database? Scroll down or look for a tutorial on the relevant subject guide.
Databases are searchable collections of electronic articles, books, videos, and audio recordings that are not available free online.
Use your portal login to access databases.
Use keywords or subject terms to search for items, and filters to narrow your results.
Subject terms provide more relevant results and are specific to each database.
CUAA Databases (mostly) come from 3 main providers. Databases from the same provider have similar interfaces and can be searched together. 
This video will cover the basics of databases and when you should use them.
Google vs. Databases (2 min)
General Database Searching
This video clip covers basic features of most databases including keywords, filters, and results display options.
Basic Feature and Filters (2 Min)
Reading a Database Record (1 min)
Databases provide metadata, which is information about the item you have found, that can be used to evaluate the item.
Is This Source Scholarly? (2 min)
Need help searching in a specific database? Most CUAA library databases are from one of 2 providers: Ebscohost and ProQuest, . Each provider has a unique interface for searching. You must be logged in to Portal to access databases off-campus.

Inside the database, look for the provider logo near the database title.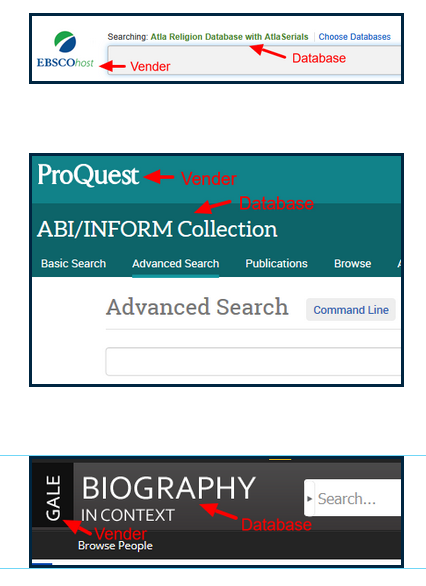 Each provider uses the similar interface for all of its databases. Some of the advanced search filters and options will vary however. Watch the videos below to learn about each interface.
Double click any video to open a larger version.
Note: Subject Specific Database Tutorials are Located in the Subject Guides on the Databases tab.
Step 4: Using Subject Terms
Subject terms: standardized terms for different topics or source types assigned by librarians. 
Subject terms are specific to each provider but are often based on Library of Congress or MeSH Classification. Look for your topic in a database thesaurus to find the best subject terms.
Subject Terms vs. Keywords (2 min)
Search Multiple Databases at Once
Databases from the same provider (Ebsco, ProQuest) can be searched at the same time. However, each database has different advanced search filters.
 1. Go to: ProQuest Database List
2. Click "View By Subject".
3. Click on one subject area, OR check the box next to multiple subject areas, then "use selected databases".
1. Go to: EBSCOHost
2. Read the database descriptions and check the best databases for your topic.
3. Click the Continue button.