Sometimes choosing your topic may seem like the hardest part of a project. Your assignment will be your starting point, and the requirements will tell you a lot about what sorts of ideas will make an appropriate topic:
How long does your paper need to be?
A shorter paper will need a more narrowly focused idea.
A longer paper a will need a broader topic, or a topic with a lot of available information.
How much time do you have?
If you have several weeks, it's likely your instructor is expecting you to do more research.
Do you need scholarly references?

Scholarly books and articles take time to write and publish, so topics focused narrowly on a recent event can be problematic. Try identifying the bigger picture a recent event represents. For example, #MeToo is about sexual harassment and sexual violence awareness. 
Ways to help generate ideas for a paper

Talk to your instructor. Come up with a few sample topic ideas and ask for feedback on whether they would work well for the assignment. Your instructor can offer alternatives or helpful feedback.   
Think about what you're studying in the course.  Are there interesting ways in which you could expand on a subtopic of the course for this assignment?
Browse newspapers (in print or online) or reference materials for something that interests you. The video below explains more
Source: UC Santa Cruz University Library
Browsing for Topic Ideas (1 min)
How to search for an encyclopedia in PRIMO:
"obsessive compulsive disorder" encyclopedia
Need some topic suggestions?
Search your textbook or syllabus for course relevant topics of interest
Try this list: U-Michigan Research Topic Ideas (Website)
 Try a topic starter database with provides an overview and sample sources:
Opposing Viewpoints Tutorial (3 Min)
Broader, Narrower, or Just Right?
IS IT TOO BROAD? Sometimes broad topics can be difficult to research due to the amount of information about them.  For example, a topic that is too broad: "The Environment".  This is too broad because it includes multiple subtopics.
IS IT TOO NORROW? Make sure that your topic is broad enough to do research on. For example, a topic that is too narrow might be:  "The water quality of the Milwaukee river between 2011-2015"; while you might find a resource or two to answer this question, you won't find enough sources to write a complete research paper.
IS IT JUST RIGHT? To strike a happy medium between broad and narrow, try picking a specific angle, subtopic, or aspect of a broad topic, looking at how a narrow topic is influenced by other factors, or how it influences other factors in your field. An example might be: "What are the effects of pollution on water quality in Wisconsin?"
Source: University Library, University of Illinois at Urbana-Champaign
Testing a Topic with Searching (2 Min)
Before committing to a topic, try some sample searching to see if what's available, and decide whether you need to make your topic broader or narrower. Primo can be a great tool for this step. 
Use Wikipedia to Narrow your Topic (2 min)
Wikipedia is a great way to identify subtopics and keywords of a topic.
Mapping your Ideas (2 min)
Exploring your topic conceptually before you start searching will make finding sources easier.  
Why? → It's easier and faster to evaluate potential sources when you know what you need.
You can also use mind mapping to track ideas, arguments, and subtopics as you test search to identify possible research questions.
Writing your Research Question (2 min)
You're ready to choose a possible research question to test search.
Remember, your research question should:
fit the requirements of the assignment (assignment length, type of argument, source type requirements)
Be answered with evidence from information sources (not yes/no questions)
 For example:
Q: What is the negative affect of water pollution on children's development in the United States?
Concepts (definition): main ideas that interact in within your research question
Library search tools work best when using concepts represented by keyword or subject terms. Before you can search you must determine your main concepts for your research question. The 4 W questions often help with this: What, Where, Why, (When)
The "W" Questions
Who: Who are you talking about? Also, who is reading the articles you are looking at? Who is doing the research on your topic?
Where: Where is your topic being researched? Where is your topic relevant?  Are there specific places where your topic takes place or influences?
When:  When did the majority of research on your topic get published (especially important in the sciences)? Are you in a position to compare historical and contemporary information?
Why: Why is your topic being researched? Is it an important, urgent issue? Why do you want to do research this topic?
For example:
Q: What are the negative effects of water pollution on children's development in the United States?
Who: children 
What: (negative) development
Where: United States
How: Water Pollution
Why: government policy, regulations, public safety 
Brainstorm keywords for searching
To search library tools you must translate your concepts into words or phrases that a computer will understand. 
All concepts must be represented in the search you create. Use OR to combine similar terms for the same concept. 

Q: What is the negative affect of water pollution on children's development in the United States
Concept #1: Child Development
Possible Keywords: "child health" OR "child development"
(opposites): "illness" OR "disease" OR "sickness"
Concept #2: Water Pollution
Possible Keywords: "water pollution"
(opposites): "water safety"
Concept #3: United States
Possible Keywords: "United States" OR "United States of America" OR U.S.
Possible search filters to use: Location (if available)
Example Search String: "child development" "water pollution"
Using Keywords in Databases (2 min)
What to look for and where to look
Sometimes it will be obvious what types of sources you need and where to find them (books & journal articles for example).
Other times it's not so clear. If your assignment allows for a wide variety of source types,  create a search plan that will provide the best evidence. The table below summarizes the most common source types and their purpose. 
Questions to Answer with your Search Plan
Who is an expert or would be researching this topic (Information Authority)?

 Possible answers: government officials, researchers, professionals (teachers, nurses, etc), first-hand witnesses
Where will you find it? the creators/authors of your sources   

What type of information do I need from these experts (Information needed)?

Possible answers:

data, arguments, facts, background information, opinions,
Why it's important? It decides the best source types to search for

What format/sources will this information be in (Source type)?

Possible answers

: books, newspapers, journal articles, magazines, data sets/statistics, websites
Why is it important? It determines where you'll search

In what search tool will I find these sources (Search Tool)?

Possible answers

: Primo, Library database, Google Scholar, Google,

What concepts will be used to describe my topic (Search Terms/Keywords)?

hint: use academic vocabulary for finding scholarly sources
Why is it important? Search tools match vocabulary assigned to sources with search terms to find results 
Sample Search Plan:
Authority: government officials, researchers
Information needs: proof that water pollution caused or contributed to poor development in children.
Primary Sources: children's health data from the US, research studies,
Secondary Sources: journal articles, magazine articles, government websites(?)
Search tools: Primo, Academic Search Complete Database, www.data.gov,
Keywords: "water pollution", "water safety", "United States", "child development", "child health",
This tutorial contain information about the basics of searching most of the CUW databases.
General Database Searching (3 min)
Click on CC icon on the bottom of the video for captions
Subject terms: a standardized word or phrase describing a topic or concept.
Subject Terms vs. Keywords (2 min)
Click on CC icon on the bottom of the video for captions
Reading a Database Record (1 min)
Databases provide metadata, which is information about the item you have found, that can be used to evaluate the item.
Click on CC icon on the bottom of the video for captions
Most CUAA library databases are from one of 2 providers/venders: Ebscohost and ProQuest. Each provider has a unique interface for searching. You must be logged in to Portal to access databases off-campus.


Inside the database, look for the provider logo near the database title.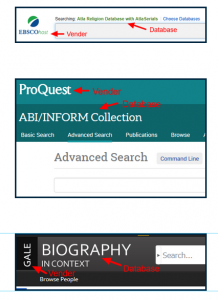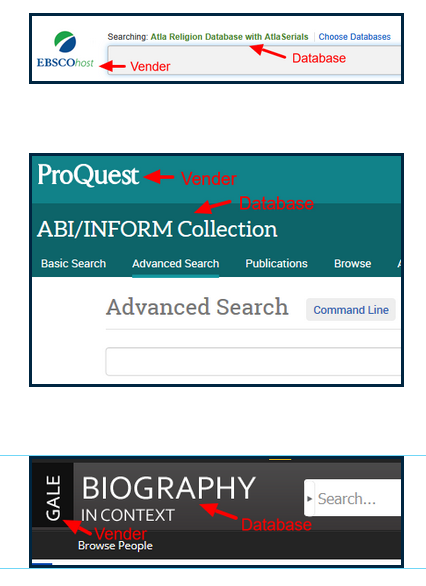 Part 3: Getting to Know Primo
Search Primo Basics (5 min)
What if I can't find anything? (2 min)
Primo™ Basics
Primo™ includes scholarly, professional,  popular, and news sources.
Primo™ search results favor two things: newer materials & words that match in the title.
Broad search terms = more books and encyclopedias
Specific search terms = more articles
Primo™ contains your library account where you renew and request items.
What is Searched?
What does Primo™ Search?
Most CUAA Databases  
CUAA Library Catalog
Resource from other Libraries
Open Access Resources (Repositories & International Materials)
Library Account
To Login:
1. Click the sign in link in the top menu bar.
2. Enter your CUAA Portal Login and Password.
3. Click on your name on the top menu bar to view or renew your loans.
How to Search Primo™
Always sign in to Primo™. Some resources require sign-in to appear in search results, even on campus.
Enter a few keywords in the search box and choose the correct scope from the drop down options. 
 Don't use stop words: the, a, an, for, on, 
Use Subject, Publication Date, and Resource Type Filters on the left side to reduce large numbers of search results.
Primo™ vs. Databases
When to Use Primo™
You want to see if CUAA Library has access to a particular item
You want a wide variety of source types
Your topic is interdisciplinary (more than one subject area) or you need multiple points-of-view
When to Use a Subject Specific Database
You need to run a very specific search (e.g. a peer-reviewed research article describing evidence based practice, written by a nurse).
You need subject-specific primary sources.